JLB Racing CHEETAH EXTREEME RTR 1:10
Spesifikasjoner:
Lengde: 505mm
Bredde: 360mm
Høyde: 205mm
Scale: 1/10
Drivverk: 4WD
Radio: 2,4 GHz FHSS
ESC: Hobbywing 120A
Børsteløs motor: 3670-3200KV
Servo: 21KG torque
Batteri: 11,1V 4000mAh Li-Po batteri
Lader: Balanced LiPo
Veil. 6.990,-
Ikke medlem:

5.490,-
Betal med faktura
Betal med kort
Delbetaling
Vipps
Dette er en av markedets raskeste 4WD rcbiler, Rå, pålitelig og sterk 4WD rcbil med meget gode kjøreegenskaper. 
Cheetah Extreeme kan oppnå hastigheter opp mot og over 100km/h!
Den er også utstyrt med en wheeliebar for å hindre at bilen steiler rundt under akselerasjon.

Denne kommer helt klar til å kjøre, Ready To Run, alt inkludert med radio, batteri og lader.
Den har også sprutsikker elektronikk slik at den tåler fuktighet under kjøring.
Inkludert i esken:
1 stk JLB J3 Speed RC Bil
1 stk Radiostyring
1 stk 11,1V 4000mAh Li-Po batteri
1 stk engelsk manual
1 stk deleskisse
1 stk lipo lader (220V)
JLBRACINGRC 1/10 Scale 4WD RC Car Electric Racing Monster Truck(RTR)with High Speed of 100 KM
H 2.4GHz Radio Controlled Vehicle for Adults with120A ESC Waterproof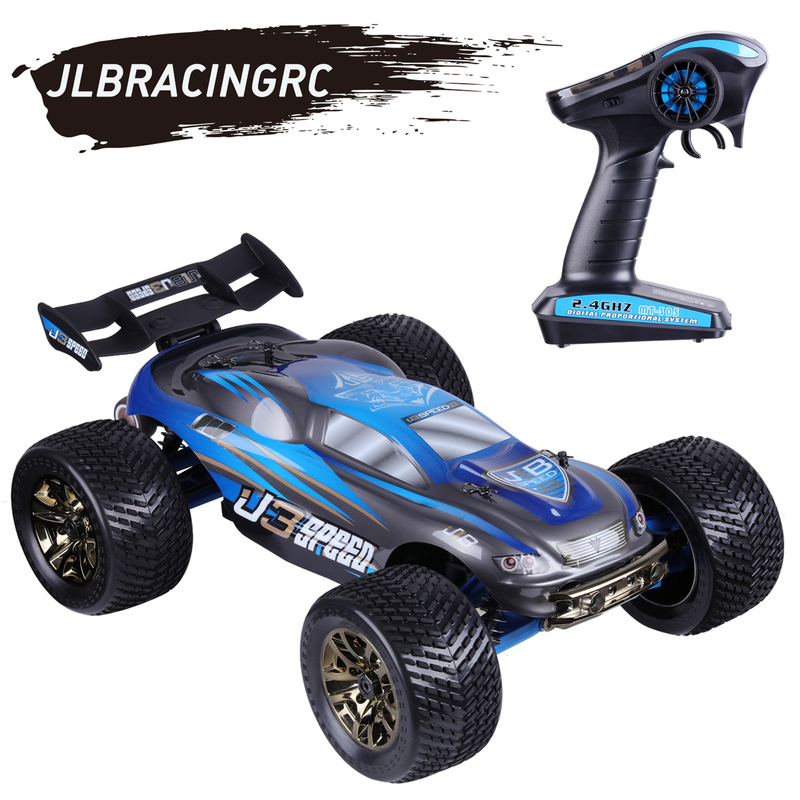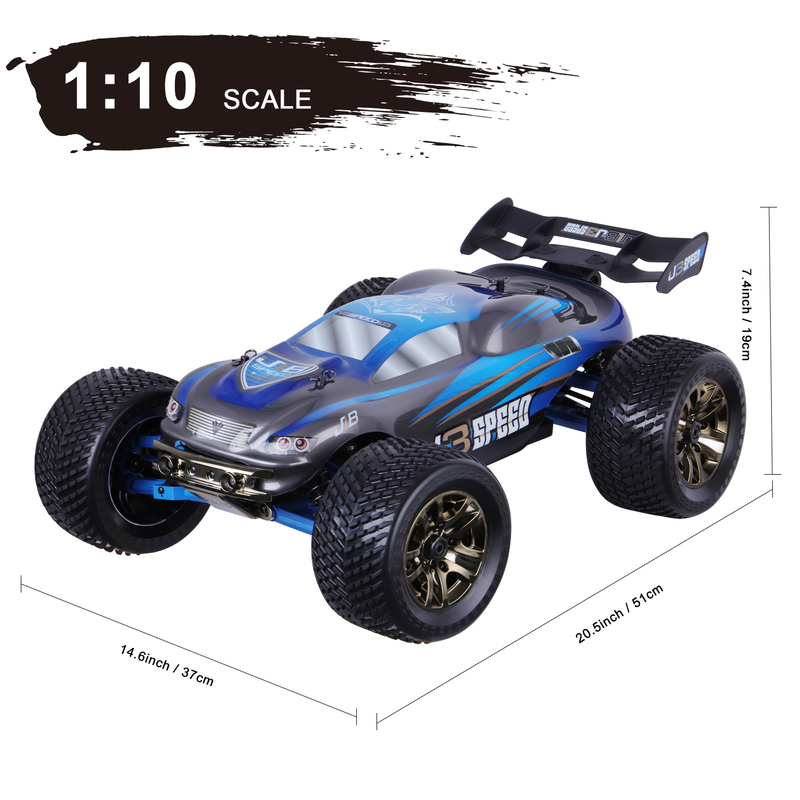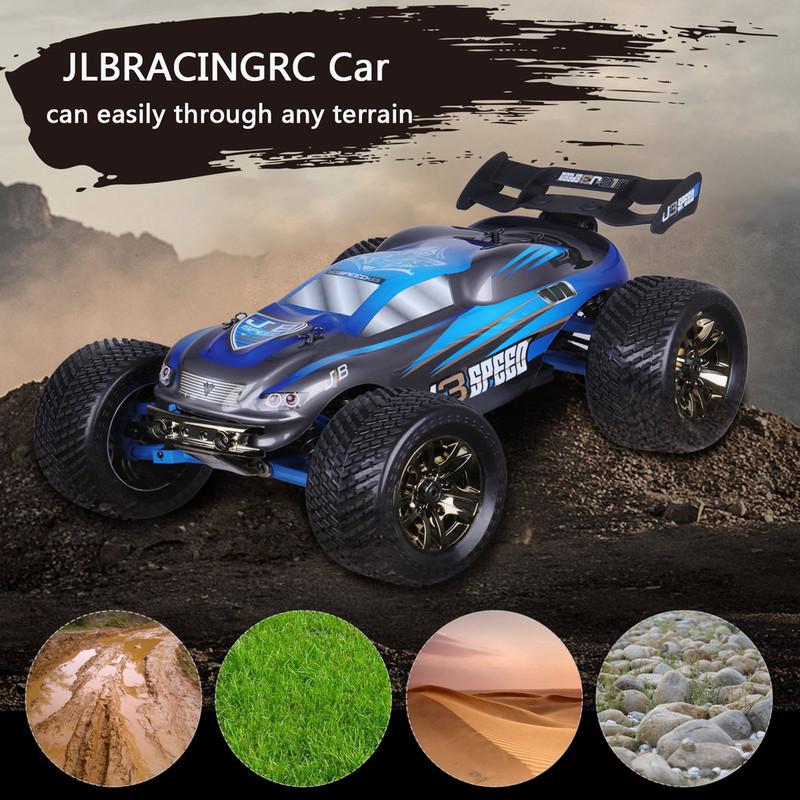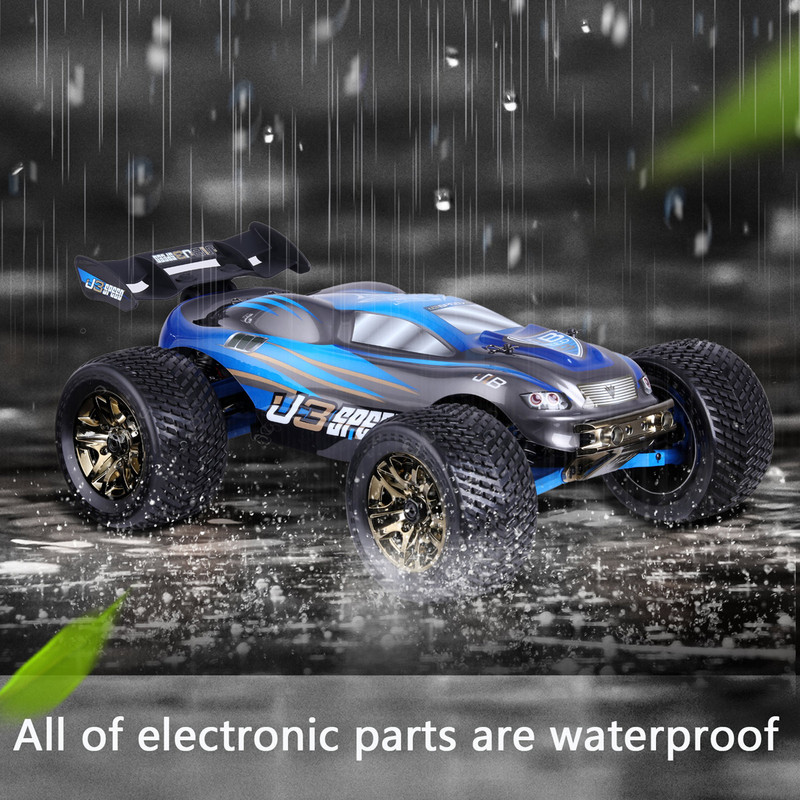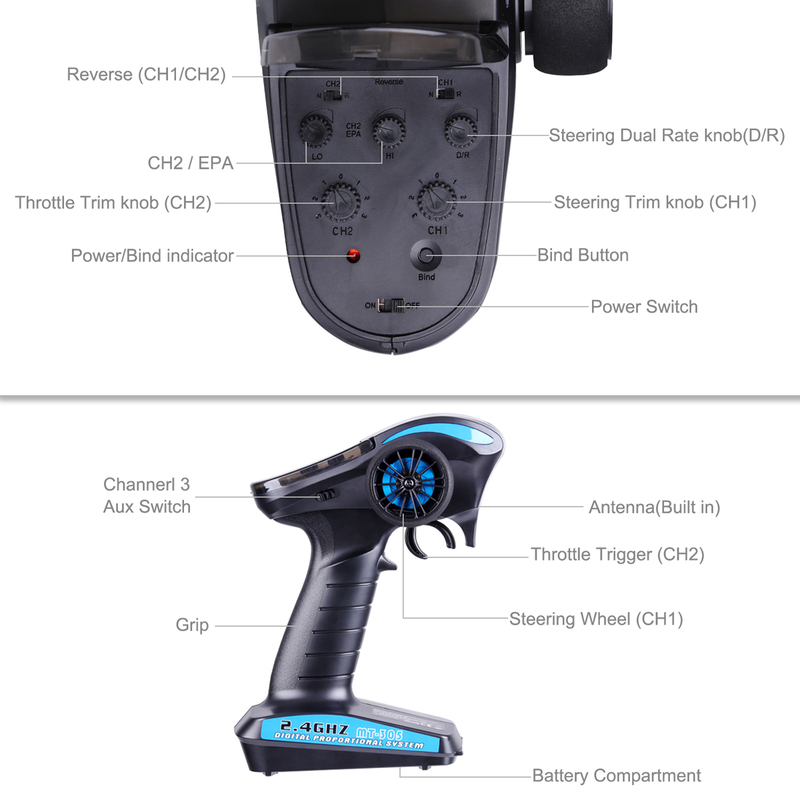 Impressive100km/h with 4WD Drivetrain:
Equipped with a four-wheel drive drivetrain, Distianert 1/10 Scale RC Car gives consistent and stable performances with highest speed of 100km/h for on-road racing truggy.
Sensitive 2.4GHz 150m Remote Control:
Keeping your buggy under control completely using a quick-responsive 2.4GHz remote control with remote distance up to 150m, it is easy to handle the buggy, no matter you are a new hobbyist of RC cars or an advanced RC car enthusiast.
Flexible with Fully Independent Suspension:
The electric racing truggy comes with 8 coil springs, which have an independent suspension on all wheels, soaking up bumps even in off-road racing and providing a better traction for flexible driving.
Shockproof Body Design:
A perfect combination of elastic coating, realistic plating front bumper, rugged tires and shock-absorbing main body, the RC car is totally shock-resistant and offers the protection for electronic components inside.
Convenient Power Supply:
This radio controlled vehicle is powered by 4 AA 1.5V batteries (not included) with 10-15 minutes driving time. There is no long boring charging time anymore, just load the batteries then ready to go.
Product description
---
Waterproof :
Waterproof, all-weather fun, you don't need to worry about the weather at all.
Excellent design :
Superior metal chassis design with strength and wiredrawing processing metal second floor, the whole kit strength is enhanced greatly.
More than 100 KM/H :
Fast, High speed and powerful motor allow you to reach speed of up to 100KM/H.
Super Anti-throw Ability :
Four huge Big Bore Aluminum shocks give all the suspension action you need to get out, the extra-large capacity gives you extra control and damping action so you have the driving feel that makes off-road driving so much fun.
Superior Control Experience :
Wheelie Bar can stable walking upright, the special balance feature will not make the car overturned easily, great off-road performance, strong and durable, perfect for specialized operation, like turn, drift, and flip.
Product Specifications:
---
Length: 510mm (20.1 in)
Width: 370mm (14.6in)
Height: 210mm (8.3 in)
Wheel base: 310mm (12.2 in)
Gap with gronud:50mm(1.97in)
Wheels: 17mm Hex & 145mm DIA
wight of walk:3.9KG
Battery: Performance 11.1v 4000MAH Li-Po Battery
Motor: Powerful Brushless 3200KV 3670 Motor
Servo: High Torque 21KG Metal Gear Steering Servo
ESC: Brushless waterproof(Hobbywing) ESC 120A
Transmiter:2.4GHZ three channel(MT-305)
Charger:2S to 3S AC power supply 2 A Sample banlance charge
Stunt:Easy Work upright
Package included:
---
1x 1:10 RC Car
1x RC Car Battery
1x Transmitter(not included battery)
1x ESC(120A)
1X Motor(3670-3200KV)
1X Servo(21KG)
1X Sticker
1x Charger
1x Manual